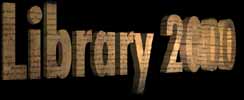 Projects and Demonstrations
---
The technology of on-line storage, display, and communications will, by the year 2000, make it economically possible to place the entire contents of a library on-line, accessible from computer workstations located anywhere. The goal of Library 2000 is to understand and try out the system engineering required to fabricate such a future library system from the underlying technologies.
--From the Library 2000 Prospectus, October 31, 1991.
---
Projects and Demonstrations:
---
Last update: November 23, 1997, by jhs

Return to Library 2000 home page.